Do you find that your tiles always have a hazy film even after being freshly cleaned?
This is usually due to a build-up of cleaning product residue on your tiles, often referred to as "detergent haze".
This film takes years to develop, but it becomes unsightly once it's appeared. In this article, we'll explain how detergent haze develops and what you can do to remove it, restoring your tiles' original shine.
How did this hazy film develop?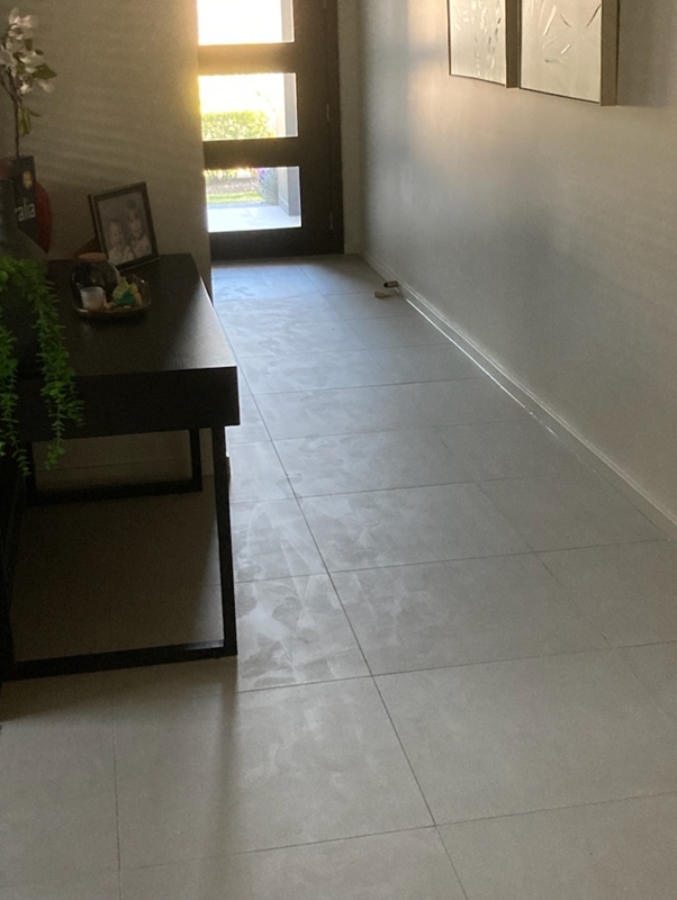 Most off-the-shelf floor cleaning products will leave a small amount of residue on your tiles after cleaning. This residue builds up slowly and can take years to become noticeable.
Cleaning products with a high pH will leave a more significant residue. High-pH products are usually advertised as heavy-duty cleaners or cleaners designed to remove grease. When heavy-duty cleaners, the only way to avoid leaving a residue is to rinse the tiles with fresh water after cleaning … which is hard work!
How can I remove "detergent haze" from my tiles?
The cleaning products that have created the residue are alkaline, so you'll need an acid to break down the residue.
If the detergent haze is mild, you can probably treat this yourself. If the residue has become quite visible and thick, you'll require professional cleaning.
If you'd like to tackle this challenge yourself, here's our suggestion:
Step 1: Identify Your Tiles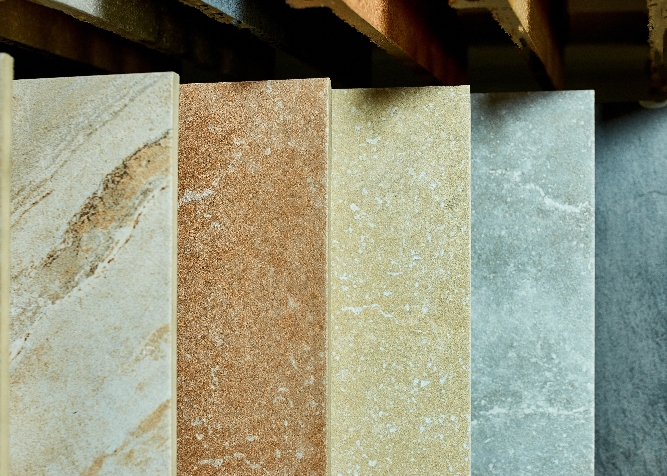 Natural stone or man-made? Acids will etch the surface of most natural stone tiles, affecting the finish. This means it is important to identify the type of tile you have. Natural stone tiles, including marble, terrazzo, limestone & blue-stone, should never come into contact with acids.
Conversely, Acids can safely be used on man-made tiles such as porcelain and ceramic tiles.
If you have natural stone tiles, you'll need to call your professional tile cleaning service to remove the detergent haze. They'll usually be able to treat the detergent haze with an aggressive cleaning process; however, your professional tile cleaner can use a solvent gel to remove the film if required.
Step 2: Choose Your Product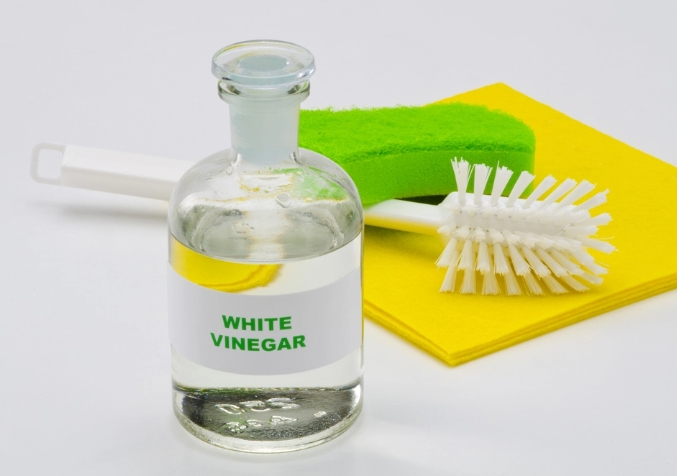 We recommend a mild vinegar solution to treat the problem. Mix 1 litre white vinegar with 4 parts of very warm water. Using warm water will help break down the detergent build-up, so the hotter, the better.
Some acid tile and grout cleaning products that are suitable for the job can be bought online. However, we recommend taking great care with these products as they are often designed for professionals. One product we recommend for detergent build-up is Reveal from Peerless Jal.
Step 3: Product Application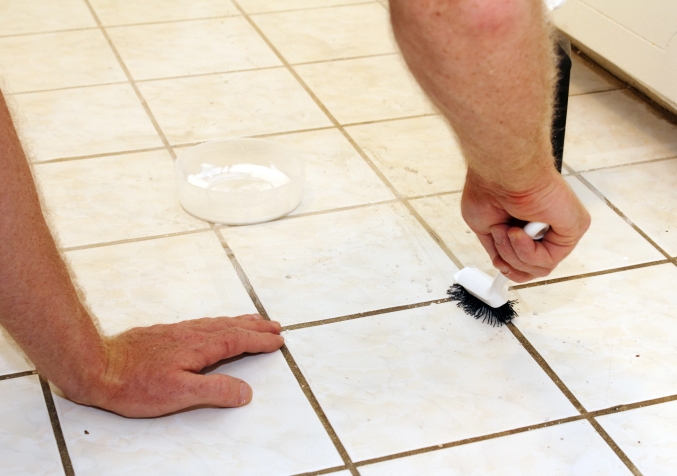 Mop on the acidic cleaning solution and allow a 5-minute dwell time. We recommend you dry the floor with a towel to pick up the acidic rinsing solutions and the cleaning product residue to reduce the chance of streaking.
Rinse the area with fresh water and wait for it to dry. You may need to repeat this process to achieve the desired result.
What if I'm not happy with the result?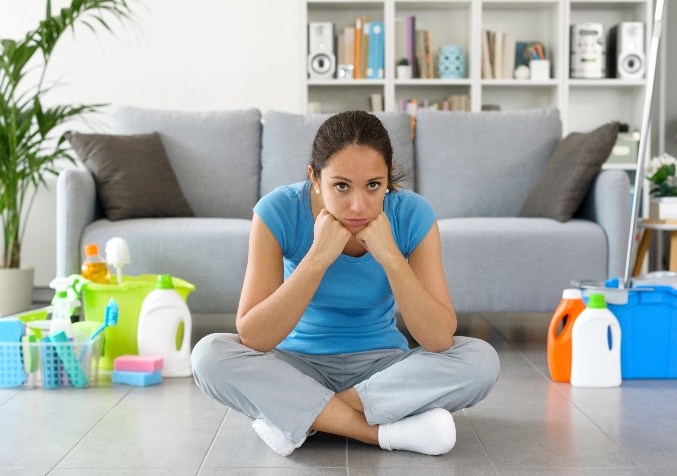 If you're unhappy with the results, then give us a call. As part of our quoting service, our professional tile and grout cleaners will perform a demonstration clean on 2 tiles, so you know what the results will be with professional cleaning.
Please note that Electrodry charges a $50 quoting fee, which is refundable if you decide to proceed with our tile and grout cleaning service.
The Grout Lines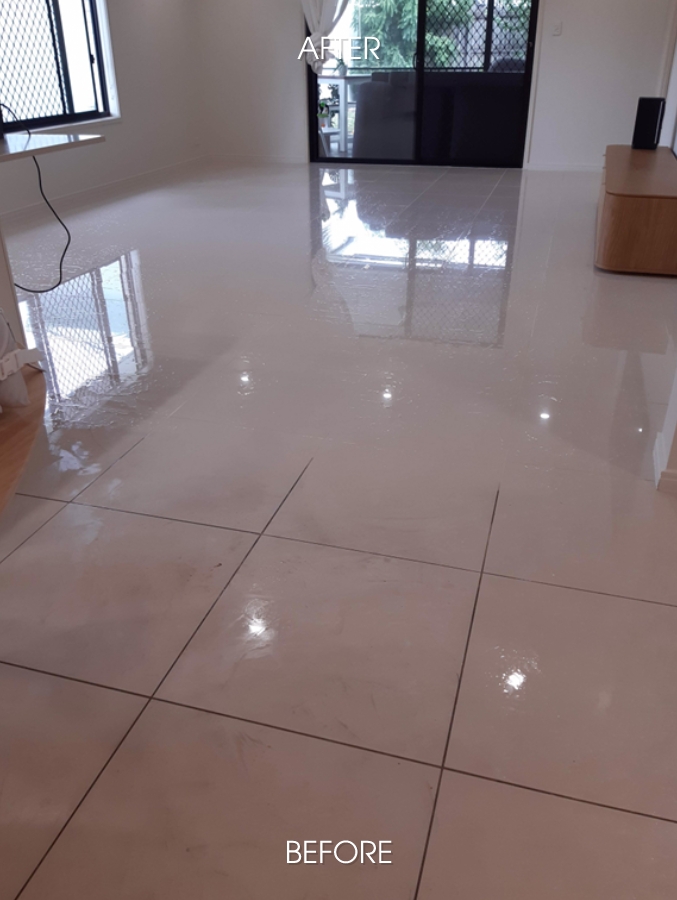 Floors with detergent haze will often have dirty grout lines.
If you agitate the diluted vinegar into each grout line with a brush, you'll remove some of the detergent residue and usually be able to lighten the grout lines. Please note that this can sometimes leave a patchy appearance, so test this method in a corner of a room.
If your concern is dark grout lines, professional tile and grout cleaning is probably required.
Final Thoughts
We hope you can put a smile back on your tiles! To help prevent detergent, we recommend using TilePro Tile Cleaner, which you can buy at our online store. This is a high-performance, neutral tile cleaning detergent that won't cause haziness or streakiness.